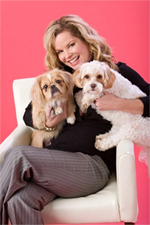 Amelia Kinkade, one of my friends and teachers will be teaching "A Celebration of Animal Communication" at the Open Center in New York City, June 18-19.  She is the author of Straight From the Horse's Mouth: How to Talk to Animals and Get Answers and The Language of Miracles: A Celebrated Psychic Teaches You to Talk to Animals (New World Library.) She is an international speaker who lectures in 25-35 cities a year, in the US, Mexico, Canada, England, Scotland, Sweden, Germany, Norway, Switzerland, Austria, and South Africa where she trains animal lovers from all walks of life including doctors and vets. Amelia was featured in The 100 Top Psychics in America. (Simon and Schuster)
Her unique abilities have been the focus of hundreds of magazines and newspaper articles world-wide including The New York Times, The Chicago Tribune, ABC News, The Boston North Shore Sunday, The London Sunday News of The World, Good Housekeeping, Cat Fancy, Dog Fancy, New Woman in England, Bilt de Frau in Germany and the cover of the Freitseit Kurier in Vienna. Miss Kinkade has appeared on television programs such as The View, The Other Half, The Ellen Degeneres Show, Extra, VH1, Jenny Jones, The BBC News, Carte Blanche in South Africa, and numerous news broadcasts in the US, Europe, and Australia. She has been heard on over 300 radio programs in the last few years from Memphis to Cape Town, South Africa. A BBC documentary was created around her work with the elephants in the Kruger National Park and a BBC children's programming tour was created for her youngest most open-minded fans.
Amelia's true passion is assisting animal rescue organizations in Africa who create safe havens for elephants, cheetah, and White Lions and trouble-shooting problems in sanctuaries that rescue tigers, primates, Asian elephants and countless breeds of exotic as well as domestic animals. She enjoys helping charities worldwide with their fund-raising. In 2002, she was honored to accept invitations to Buckingham Palace to work with the household cavalry of Queen Elizabeth II and to "whisper" with the hunting horses of Prince Charles. Please visit: www.Ameliakinkade.com.