Question for Bernie: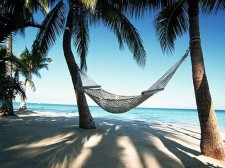 So Bernie, let me tell you what happened on Saturday.  Just to recap, I was stressing about my husband's new diabetic diagnosis and feeling anxious and fearful. You told me to stop living in the imagined future, and to stop taking myself so seriously. You were right. I did some meditation and then some journaling, but still felt kind of funky. Then my husband told me to look at the painting by his brother of a gorgeous beach scene in St. Thomas, Virgin Islands, that hangs on our wall. Allen said to me, "Visualize us there…feel the sand and the sun…just be there for a few minutes." So we hugged and looked at the painting and visualized.
About 5-6 hours later, I received notice that I had won a three-day getaway for two to (you guessed it) St. Thomas, Virgin Islands, courtesy of the Jet Blue Beachy Keen Sweepstakes that I had entered.
Wow. What can I say? I had the strong sense that my mom was in it all somewhere…and maybe Allen's mom, too.
I know all of life is a miracle and they are all around us on a daily basis, but this one really got my attention. 🙂
Have a wonderful day. I am sending you hugs and energy.
Bernie's Answer:
And you don't invite me to join you?
Now I'm feeling funky.
Bernie
---
Question for Bernie:
In June 2010 I had a burst appendix. I haven't been well since. I have low hemoglobin and developed huge lower belly hernias. At present no one wants to repair my hernias and I'm depressed over my body image. Can you please give me some guidance?
Bernie's Answer:
I recommend that you take vitamins and supplements to help your body heal. As long as you are depressed your body will not get a healing message. Your mood is suppressed as well as your Immune System. Work on the depression starting with laughing four times a day for no reason.
I also think you can seek another surgeon, but remember, you are the problem and the solution. Your body is not the issue. It is your negative perception of your body that is holding both your mood and your Immune System down.
If you don't already have a dog and like the idea, I highly recommend that you get one. Dogs are great role models to help us learn how to live in the moment. They don't have a self-image problem. If you've had pets in your life, you also know how much they can lift your spirits with their antics. They are here to love and be loved so imitate them.
Peace,
Bernie
---
Question for Bernie:
First let me say that I've read everything you've written and have found great comfort, hope and strength in all I've learned. You changed my entire attitude about my diagnosis and my time left on this earth. I meditate and focus on my body's ability to heal itself on a daily basis. I have days when I just feel good, but lately I've been having days where all of the old doubts are returning. I'm just getting over pneumonia and had to have a transfusion last week, so I'm thinking this lapse in my positive attitude can be chalked up to just not feeling well. I'm just wondering what your thoughts are when there are set backs like this? I can feel a change in my lymph nodes which just throws me in a panic because I think that I'm not trying hard enough to heal. Please help me find my focus again.
Bernie's Answer:
First of all, stop judging yourself. Life is full of difficulties and we all do die no matter how we may try to change that. We can be vigilant about what we eat, have a good exercise routine, and practice stress reducing activities like meditation. Those healthy living habits can make whatever time we have the best it can be, but ultimately it doesn't change the outcome we all share.
Focus on how to have a nice day and enjoy the present moment. My mantra is to let my heart make up my mind.
Yes, it certainly is true that your health can affect your mood, but conversely your mood can affect your health. So find things you love to do and do them; whatever makes you lose track of time, do it.
And, of course, I always recommend that people struggling with a depressed mood laugh for no reason every few hours. It gives you a chance to elevate your mood when you consciously think about something that will make you laugh.
As you know from reading my books, you'll know I am a big believer in the healing power of pets. If you don't already have one and think it would work out for you, then go ahead and get a furry pet.
My last suggestions are very important. Rehearse being the person you want to be and when you are ready, find ways to practice being that person. Finally, please forgive yourself for anything you would call a mistake along the way. Focus on the great lessons you have learned from those perceived mistakes. Those lessons are really some of the best gifts we receive in life, after all.
Peace,
Bernie
---
Question for Bernie: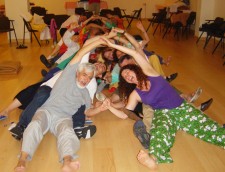 My brother was recently diagnosed with major depression. He was laid off of his high-paying job at the Federal Reserve Bank two years ago and was forced to go on unemployment. His depression has worsened over these two years, and now he doesn't have a will to live anymore. My attempts to cheer him up with yoga, acupuncture, meditation, organic food and supplements have not seemed to succeed.
I asked him to live with me because he cannot afford housing and food. He doesn't have health insurance either. I went to the local Social Security office in NJ on his behalf and was told that he is not eligible for Medicaid or any assistance because he has $50,000 in his 401K plan. They told him to use up his 401K and then reapply when his savings are under $2,000. His medical bills are already close to $45,000. His wife has filed for divorce and she is getting half of his 401K.
My brother is getting worse every day, and I am afraid I will lose him. He is my only brother. He is only 35. I do not know where to ask for help as no one seems to care, including doctors. Could you please recommend something?
I love your work and I love all your books! Thank you.
Bernie's Answer:
Ask your brother if he will go ahead now and give you the money that would be left in his 401K after his divorce settlement. If he will do that, he can reapply for assistance as soon as his wife gets the settlement payout.
Here are a couple more ideas to try that might help your brother a lot. See if he will read one of my books or use a meditation CD of mine. Go to the "Catalog" here on my website and look over the book titles and CD descriptions with him. Since you have read the books and know about my work, help your brother choose something that seems best for his needs right now.
Tell him that in my books he can learn to love his fate and find a great life lesson in the hell he has been going through. You and he have probably heard people say, "Everything that happens was meant to be." Some people think that there is a "master plan" and we have no control over what happens to us—we just have to accept it. I believe we can influence all areas of our lives positively if we use the power of the Mind-Body-Spirit connection. Help your brother see that he does have the ultimate power over his life if he is willing to learn about concepts like the Mind-Body-Spirit connection and techniques like meditation and visualization. He has a chance now to redesign a life he can love. He already has a great blessing in you, his sister.
Let him know that you are angry at the idea that he would take himself away from you. Tell him in no uncertain terms that death is the easy way out! Let him hear you say something absurd—say to him, " If you die—if you commit suicide—I'll never talk to you ever again!"
You both may end up laughing at how absurd that statement is, and if you do laugh, ask him to laugh with you several times a day for a few minutes as part of his "therapy." Laughter is a great healer. If you know the kinds of TV shows or movies that make him laugh, try to watch them with him. That can take him temporarily away from his own thoughts, let him relax and enjoy the show and your company. Find a Laughter Yoga Workshop and take him. You both will learn how to use laughter's healing power even in the midst of depression.
If he is willing to try these suggestions, you can then help him find a good psychotherapist to continue helping him recover from this profound depressive episode.
But remember, if he won't try there isn't much you can do except listen to him and love him. He must be willing to meet you halfway.
Peace,
Bernie
---
Question for Bernie: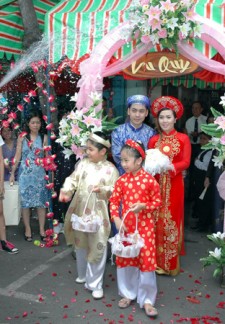 I suffer from an old eating disorder and the fear of getting fat. I have high anxiety if I don't exercise.
I'm traveling to Vietnam and Laos for a wedding. I need support on how to trust the journey before I get out of my comfort zone. I want to experience the peace of God and enjoy the beautiful spirit of Vietnam.
Also I want to volunteer over Christmas while I'm there and need to be able to confidently ask people there for guidance on how to do that. Thank you.
Bernie's Answer:
Trust your upcoming journey by letting your heart make up your mind. This is my approach, and it will provide you with the assurance that what and who you need will be there.
About your old eating disorder, remember that you are the problem AND the solution. You can control your thoughts. You make the choices—no one can force you to do what you do not want to do. Think about this: What good are the emotions of fear and worry? They are not actions that have any influence on what ultimately happens. They are just negative feelings that people mistake as necessary to influence an outcome. Fear and worry are powerless to actually change anything. They are useless—a waste of your brain power.
Visualize yourself exercising regularly and conquering your anxiety. Your body chemistry does respond to negative emotions like fear and worry by flooding your system with adrenaline, making you feel even more jittery and anxious. Exercise is the best way to use that extra energy up. Your body can then naturally relax after a good workout, and your anxiety is gone.
Read my latest book, A BOOK OF MIRACLES. There are wonderful true stories in it which you will enjoy and learn from, as well as my comments at the end of the chapters.
Remember to laugh when you don't know what else to do—sometimes we fall into the habit of taking ourselves a little too seriously. Life is meant to be enjoyed, even though we all encounter some difficulties along the way.
Of course I can't resist giving you a little more advise about your trip– don't go to Vietnam, go to Brooklyn, New York, my hometown. There is a lot of spirit in Brooklyn all year 'round! … And enjoy the trip…
Peace,
Bernie