Question for Bernie: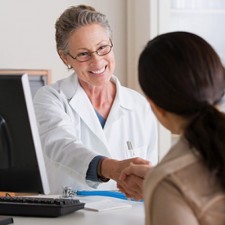 My surgery date is February 20th.  I've read Peace, Love and Healing, and I listen to many of your meditations. I've done some research and will ask for the open procedure because I've learned that surgical clips can dislodge and migrate.  I'm also allergic to nickel.
My surgeon did listen to me and will do the procedure that I choose. Can you see any problem with the open procedure?
Bernie's Answer:
Not if it is your choice.  Using crayons, draw yourself having both procedures, and then look at them the next day. You will know what is right for you.  If you send them to me via e-mail, I can help you, too.
Also, I recommend that every few hours you visualize going to the hospital, having surgery, and experiencing a rapid recovery.  Ask to have music in OR and that your surgeon speak some positive messages to you while you are undergoing the procedure.
Finish your positive visualization with seeing yourself waking up feeling comfortable, and thirsty and hungry at the end of the procedure.
Peace and Healing,
Bernie