Forget past mistakes.  Forget failures.  Forget everything except what you are going to do now—and do it.
~ William Duran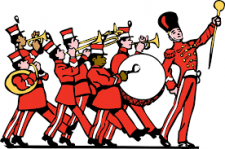 Life is a parade.  Sometimes we march along and realize we have passed by what we were looking for.  What do we do? Stand there and drop out of the parade?  March on with regrets?  Feel bad about how we looked or that everything we wanted was on the wrong side of the street?  It's now behind us!  Forget it and march on!
Sometimes our parade isn't so pretty, and the crowd isn't interested in us.  If we drag everything we have passed by with us, we will destroy the present.  We have no future when we live in the past.
We even talk about past lives.  Whether you believe in them or not, the same principle applies.  If you are living a past life, you are destroying your present one.  In therapy, people come to understand why they are acting the way they are, and how the past is affecting them.  They learn to let go, move on, and not sit in the same classroom year after year. They graduate and commence a new life.
The past is over unless you rebirth it every day.
Peace,
Bernie