A Letter to Bernie:
Bernie – hope this email finds you well and enjoying the holidays. I'm currently in Florida; living full-time in my RV with my 16 year old Basenji mix dog Cookie.
Not one to follow rules or guidelines very well, after my wife of almost 38 years died from Leukemia (last December), I quit my job, sold my Arizona home and hit the road in search of my future. Long way around to the point of my email, I read and kept a copy of an article you wrote in 2014, The Beginning of the End.
I've read, reread, and applied it at different times over the years. After re-reading it yet again this morning, I wanted to tell you how it always brings tears to my eyes and a peaceful comforting to my soul. Thank you.
Bernie's Response: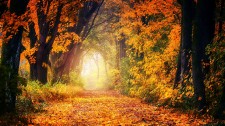 Bless you and yours. I have many more stories and books about life, animals, and more which you might find both helpful and enjoyable.  My wife died a year ago, but they are still with us in spirit. I have had amazing experiences.  Look for pennies from Heaven.
Peace,
Bernie