Our scientific power has outrun our spiritual power.  We have guided missiles and misguided men.
~ Martin Luther King, Jr.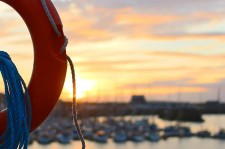 It seems inappropriate that we have people sitting on the beach watching us go in the water while no one guides us as we plunge into life.  We all need lifeguards.  We need someone who can safely direct us to find our ability to stay afloat in the sea of life, especially when parents, teachers, and religions are not giving us the help we need.
Our children are in great danger of drowning.  It is incredible that the headlines are full of news about children killing their teachers and parents.  We must let the children know we are here to be their lifeguards and life guides.  We need to be there when they get in over their heads or flounder in deep waters, and pull them to safety.  We need to keep them on shore when the sea of life is turbulent.  We can't just sit by and watch them go down.
Please sign up for duty.  Work a shift so that our children will be guarded and guided to a safe, dry place where they can live free of the threat of stormy seas.  Be there so when the occasional severe storm does occur they will know where to turn to find a life preserver.
Peace,
Bernie