Let's get down to some real lessons I have learned from the life experience of people in their nineties. When you ask ninety year olds for advice for other seniors, these are some of the answers I have heard: "Lie a lot, because if you tell them about all your troubles, they'll put you in a nursing home." "If you don't want to fall, then watch where you are going." "The only thing to fear is driving on the parkway at night."
In his seventies, my father-in-law fell and injured his spinal cord. He became quadriplegic, and lived to age ninety seven. When I asked him for his advice to seniors, he said, "Tell them to fall on something soft." A few days later he said to me, "It doesn't always work. They stood me up on my feet in therapy and I fell over on my wife—and broke her leg! So, tell them to just fall up." I laughed because it sounded like a joke, but I learned he was telling me much more.
When it became too difficult to care for him in our home, he was admitted to a nursing home. He began to develop abdominal pain and vomiting after many months in the nursing home. I did not feel it was appropriate to put him through tests looking for a diagnosis because he looked like he had a short time left to live. A new nursing home was built near our home, and so I announced I was moving him there so we could be close by and spend more time with him. I was told, "You are not in charge of his care. If you move him, you are responsible for his medical bills." My response was that he had very little time left, and if I had to pay for it, I could afford it.
So we moved him. Within three days at the new place he was smiling, eating, and free of pain. Here, in this new, close-by place, he was not dying anymore—and I was responsible for his bills. Of course, I didn't tell him about that—but I was really curious so I just asked him, "How come you're not dying anymore?"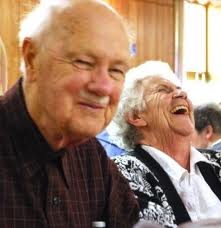 His response was direct and honest: "I was literally dying to make them happy at the other nursing home. They were tired of taking care of me." As a doctor, those words really hit home for me. But thankfully he lived for many more years, with me encouraging him to live to be one hundred and get on television! Then one night when my wife and I accompanied his wife to feed him dinner, he said to all of us, "No vitamins. No dinner." His look told us he was tired and ready to leave his body. That night he died quietly after we left.  I felt he was teaching me about how to just fall up. Those words are on his head stone. I can tell you that dying can be a very different experience when it is not a failure, and doctors and family do not interfere with a person's wishes when that person is tired of their body.
My Dad really died laughing at the stories my Mom was telling us all at his bedside about their early dates. It turns out my father lost a coin toss, and had to take my mother out for their first date—the rest is history. I think we need to ask seniors who are willing to share their wisdom and experience to get more involved in the education of our children. I noticed how busy my mother was being a great grandmother to her own grandchildren, but also helping people beyond her own family with her wisdom and experience. For me, the words great and grand are meaningful and represent the experience of a lifetime built upon an unshakable foundation of love, acceptance, and compassion, deserving of the "graduate degree" title, Grandmother or Great-Grandmother, certifying that you are not just a mother any longer, but a grand one or a great-grand one.
My mother in law, who also lived into her nineties, was my teacher, too. But, she would never discuss her age because, "My age is not a matter for discussion." The family wouldn't let me put her comment about her age on her headstone. When I asked her what I could pray for, for her, she responded from her wheelchair, "World peace." I was expecting her to complain and whine about all her troubles, but she transcended her own needs, and taught me a great deal with her words and attitude about life.
Now some questions for you to contemplate:
Would you like to live to be one hundred?
How would you describe the relationship in your marriage, or any relationship you are involved in, from family to your occupation?
What mottoes are you living or dying by?
What are your happiness habits?
What have your children taught you?
Peace,
Bernie