By Lionel Ketchian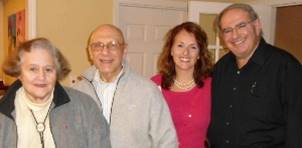 Bobbie & Bernie Siegel,
Theresa Waldron-Yancoskie & Lionel Ketchian
Don't miss his valuable free resource for people to learn lessons in healing. THE ART OF HEALING SUPPORT GROUP with your host: Dr. Bernie Siegel. The co-host will be: Dr. Tobi Mansfield a medical psychologist that will also be a gift for us.
The group begins on January 3rd, 2020 and will continue on the first Friday of every month from 2:00 PM – 3:30 PM Eastern Time. You may access the teleconference by dialing into the conferencing service at: 1-857-232-0158. Then enter Conference code 379552 and you will be connected to the group.
This is a very important support group for people who wish to heal. People from this country and around the world can now benefit themselves.
This free phone support group will bring people together who are experiencing health challenges and create a community devoted to emotional, physical and spiritual wellness. With the help of Dr. Bernie Siegel's sage wisdom, patients can find hope and healing as they embark on their path forward. By participating in this group, you may learn to embrace each and every challenge in your life as an opportunity for self-transformation.
Love, Medicine and Miracles is the name of Dr. Bernie Siegel's first best-selling book written in 1986. This event redirected his life. I don't know if you have read this book, but If you would like to read a wonderful book by a great author that can have a positive impact on your health, then this is the book for you. One of the things that makes Dr. Bernie Siegel exceptional is the fact that he prefers being called Bernie rather than Dr. Siegel.
I first met Bernie in 1986 when he wrote this book. He agreed to be on my radio show Successful Living on WADS Radio in Ansonia, CT. I had followed some of his writing before he published his book, so I was very excited that he was sharing his techniques and knowledge with the world.
Bernie is a true role model for all of us. He is a genuine human being, a spiritual person and a medical doctor. He has reset the mark for the medical profession to understand that people are more than a body that needs to be fixed. Bernie showed us how to heal.
In 1978, he founded Exceptional Cancer Patients, a specific form of individual and group therapy utilizing patients' drawings, dreams, images and feelings. ECaP helped to facilitate personal lifestyle changes and personal empowerment of the individual's life. ECaP is based on "carefrontation," a loving, safe, therapeutic confrontation, which facilitates personal change and healing and is still running today.
June 25, 2003 the Happiness Club had a dinner for Dr. Bernie Siegel to honor and celebrate Dr. Siegel's work in bringing happiness to the world. The dinner meeting was held at the Peppermill Restaurant, located at the time in Westport, Ct. We had over 100 people attend. We honored him with a "Doctor of the Soul" award.
In 2004, Bernie and Lionel were on PBS together when they presented: Conversations with Bernie, Health and Happiness: To Learn to Live and In the Journey Together.
Since 2017, Bernie and Lionel have been running the monthly Woodbridge, CT Happiness Club at the Woodbridge Town Library located at 10 Newton Road, Woodbridge, CT 06525. The next meeting is Tuesday, January 21,2020 from 6:00 to 7:45 PM.
In March 2017, Bernie was the first teacher on Happy U when it was created. Bernie joins us every Monday and you can be part of our Master Mind Group for a discussion on Happiness, Love and its Benefits. The next Happy U is: Monday, December 30th at 7:00 PM ET. To join the Conference Call dial: 1-712-770-8010 and enter code: 601695. The topic will be Happiness & Preferences! Happy U is the free Happiness School of Continuing Higher Education created by Lionel Ketchian.
In 2016, Lionel joined Bernie's radio show. Dreamvisions 7 Radio Network produces Mind Health Matters with Bernie Siegel, M.D., and with co-hosts Lionel Ketchian and Deborah Beauvais. Dr. Bernie & Lionel share expert advice on topics around Health and Healing. Their messages of hope, happiness and love are extended to all who seek a whole person approach for living life fully. Deborah Beauvais is honored to bring a feminine perspective to the show. Topics range from Bernie's amazing journey of life to his books and favorite authors' quotes, to God and everything in between. Doing this radio show with Bernie and Deborah has been a fantastic experience. We consider ourselves a radioactive family because we have grown to love one another. Join us and become part of our radioactive family for your well being. The show is on at: 12:00 PM and 12:00 AM EST. Broadcasts Weekly: Wednesday, Thursday & Friday. Go to: www.dreamvisions7radio.com
In 2016 I became a co-host on the Bernie's show on Healthylife.net Radio. On this program of Mind Health Matters, Bernie and Lionel give advice on personal questions about Health, Healing and Happiness. The call in number is: 800-555-5453. Bernie's show is the first Tuesday of each month at 12:00 pm. View Bernie's show information at the Healthylife.net Radio.
Network. http://www.healthylife.net/RadioShow/Radio%20Host%20Profiles.htm
In 1989, Peace, Love & Healing was written, and in 1993, How To Live Between Office Visits followed. Bernie is currently working on other books with the goal of humanizing medical education and medical care, as well as empowering patients and teaching survival behavior to enhance immune system competency. Bernie's realization that we all need help dealing with the difficulties of life, not just the physical ones, led to Bernie writing his fourth book in 1998 Prescriptions for Living. It helps people to become aware of the eternal truths and wisdom of the sages through Bernie's stories and insights rather than wait for a personal disaster. He wants to help people fix their lives before they are broken, and thus, not have to become strong at the broken places. Published in 2003 are Help Me to Heal (to empower patients and their caregivers,) and 365 Prescriptions for the Soul. In 2004, Smudge Bunny, a children's book about how difficulties can become blessings. Then in 2005, 101 Exercises for the Soul was published, followed in the fall of 2006 by a prescriptions for parenting book titled Love, Magic & Mud Pies.
Published in 2008 came Buddy's Candle, for children of all ages, related to dealing with the loss of a loved one, be it a pet or parent. Published in 2009, Faith, Hope & Healing with inspiring survivor stories and Bernie's reflections about what they teach us, was born.
Also out was Words & Swords, Bernie's poetry and chance to write and react with your own. In the Fall of 2011, A Book of Miracles was published with amazing stories and Bernie's comments. In September 2013, his latest book The Art of Healing was published containing 60 drawings by patients and what they reveal. In November of 2015, Love, Animals & Miracles containing heartwarming, inspiring and informative stories about life was born.
Bernie has been a global pioneer in improving and humanizing medical education and medical care. He has revolutionized medical care giving. Bernie says: "Exceptional patients manifest the will to live in its most potent form. They take charge of their lives even if they were never able to before, and they work hard to achieve health and peace of mind. They do not rely on doctors to take the initiative but rather use them as members of a team, demanding the utmost in technique, resourcefulness, concern, and open-mindedness. If they're not satisfied, they change doctors.
However, exceptional patients also are loving, and thus  understand the difficulties a physician faces. In most cases, my advice to a dissatisfied patient is to give the doctor a hug. Usually this makes the doctor more willing to respond to the patient's needs, because you become an individual to your physician and are treated as an individual, not a disease."
Bernie said,"We must remove the word "impossible" from our vocabulary. As David Ben-Gurion once observed in another context, "Anyone who doesn't believe in miracles is not a realist." Moreover, when we see how terms like "spontaneous remission" or "miracle" mislead and confuse us, then we will learn. Such terms imply that the patient must be lucky to be cured, but these healings occur through hard work. They are not acts of God. Remember that one generation's miracle may be another's scientific fact. Do not close your eyes to acts or events that are not always measurable. They happen by means of an inner energy available to all of us. That's why I prefer terms like "creative" or "self-induced" healing, which emphasize the patient's active role."
Bernie says, "Spirituality means the ability to find peace and happiness in an imperfect world, and to feel that one's own personality is imperfect but acceptable. From this peaceful state of mind come both creativity and the ability to love unselfishly, which go hand in hand. Acceptance, faith, forgiveness, peace, and love are the traits that define spirituality for me. These characteristics always appear in those who achieve unexpected healing of serious illness."
Bernie's wife Bobbie died in 2017. Bernie lives in a suburb of New Haven, Connecticut.
Thank you Bernie for all you have done to elevate our awareness. Thank you for the continuing support you provide for all those in need of it.
Bernie's website:
https://berniesiegelmd.com