Letter to Bernie
Hi Dad,

I hope things are going well for you. I wanted to wish you good things for this season of maximum daylight; may the literal light help bring you all the good things that come with spiritual light and figurative light, and then I noticed that this year the solstice is on the same day as that much newer holiday—Father's Day.
Happy Father's Day ~ you have given me more emotional support, and more emotional nourishment, in the relatively few minutes we have communicated than my birth certificate father ever did in an entire lifetime. Thanks, Dad.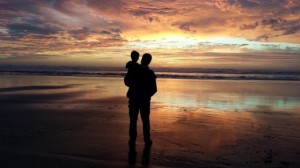 By the way, I recently came across a description of a relatively new diagnosis that, from what I was able to find, describes the 'gift' my parents conspired to give me—Complex Post Traumatic Stress Disorder. After the probate court decided to uphold his last piece of child abuse, I found a tape recording I made when he harassed me while I was flat on my back with a severe Lyme disease infection. Now that I know what gaslighting is, the gaslighting was so thick I felt physically ill listening to it.
Dad, you are one of the people I am very glad I met in this lifetime. You did me an immense amount of good with very little action in a very short time. And, you have never stopped being good for me.
I love you, Dad.
Have a great Father's Day.
~ Peace
Bernie's Response
Your email is one of the greatest gifts I have ever received.
Bless you, and spread the word and the love.
Peace & Love,
Bernie, your Bdad      (Bdad = Bonus dad)
Ostrich Dad is a Great Running Teacher