Question for Bernie:
Hi Dr. Siegel,
I've been reading your book, Love, Medicine and Miracles and it's giving me so much hope.  My mom is 68 years old and has been a heavy smoker most of her life.  A few weeks ago she went from working full time, healthy, fully mobile to in the hospital with stage 4 cancer that spread to her brain, barely able to do most everyday things.  The minute she heard stage 4 things got worse and she keeps repeating that, as you say words are important and she has been declining fast ever since.
I am trying to motivate her to be positive and that there is hope from what I learn in your book, but it is so hard.  She started radiation yesterday and I am telling her to visualize the lesions on her brain shrinking. She is so weak, angry and depressed and nothing I say is getting through to her.  She worked as a home health aide her whole life taking care of people and always so positive, so it's so sad to see her like this. Any advice or guidance. Thank you for all you do.
Bernie's Answer:
Tell her to love her body and have faith.  Ask her for a word that describes how she feels and let me know the word she chooses.
Also, ask her if she would draw a picture with crayons that you can email to me. Let me know and I can tell her what to draw.
Peace,
Bernie
Response back to Bernie: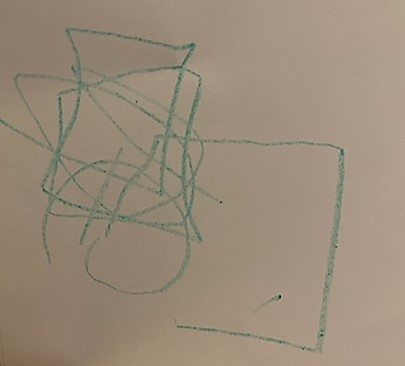 Hi Bernie,
Thank you so much for taking the time to respond to my email.  I asked her for a word to describe how she feels and she said, "Like garbage" then had her draw the attached picture.  She lost some motor skills recently, so it was a little difficult.  She kept saying "am I drawing squares?" and she picked the color green.  I'm not sure what it means, but maybe you can offer insight.
You are truly a wonderful person and I'm so grateful that I found your book.
Bernie's response with analysis of drawing:
She needs to see the 'garbage' in her life as what dies—as what needs to be eliminated.
The color green is healthy, but shown in her drawing all tangled up and coming apart.  Have her focus on what she enjoys in and about her life and that means what she wants to do—it's not about the 'garbage.'  Get her connected to what she enjoys in life.
Tell her to love her body and it will do what she wants, and ask her to see the treatment as being about healing her and not about side effects.
Peace,
Bernie
Response back to Bernie with follow-up:
I came here and opened her windows, put on music she loves at a low volume and told her all about you, your book and your emails.  I took her to radiation and we were in and out in 40 minutes, and she even sat outside and ate an ice cream after.
I know it's only because of what I learned from your book and the fact that you took the time out to respond to my email—it means so much.  I'm hoping to have her on your call on 9/15 and we get a miracle!