Question for Bernie:
 Namaste Bernie Paa,
How are you? I hope you are doing well. Today I am writing a gratitude letter to you on behalf of me and my siblings.  Before this I mailed you about my mother's cancer journey of 18 years. It has been 105 days since she left physical world.
Thank you, Bernie Paa, for your words of wisdom. What will happen to us if you don't exist in this universe—I am grateful to the universe and my creator that somehow I reached out to you and your books.  It is so helpful to many cancer patients and caretakers like us. One thing is clear, that when you want to help somebody and love someone unconditionally like you do in your life, the universe will guide you and support you.
Bernie, you are an agent of God who sent a man like you when the world is in pain, when world needs you. When we need someone to guide us and to awake our conscious energy, my creator sent you to me as my Guide.
Thank you so much for writing such beautiful & wonderful books. A treasure of peace, love, healing, experience and consciousness. At present I am grieving so much due to loss of my mother.  Currently we are reading some of your best books—Peace, Love & Healing; Love, Medicine and Miracles; No Endings Only Beginnings; and 365 Prescriptions for the Soul.
Last night we had a discussion on your books. We enjoyed it a lot—your books, your experience, your words and your wisdom. We never met you, Bernie Paa, but it feels like we know you very well personally.
Now I want to write a few words about the grief of my mother's death. Bernie, sometimes it feels like how can you survive without your mother? Sometimes it's like she is with us, her energy is constantly lingering around us, watching over us and sending her proof of presence in form signs. But still the part of missing her skin and body is so hard. I miss her so miserably. I think that gap can't be filled.  Bonus Dad, say few words about that gap.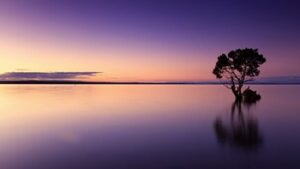 Bernie's Answer:
I am trying to live the sermon just as you outlined it. My wife died 5 years ago, and I know the pain of losing a loved one. But I also know she is with me and leaving signs that are meaningful so I know it is from her.
So keep an eye out for signs from your Mom—seeing numbers or finding objects that bring back memories.
Peace,
Bernie