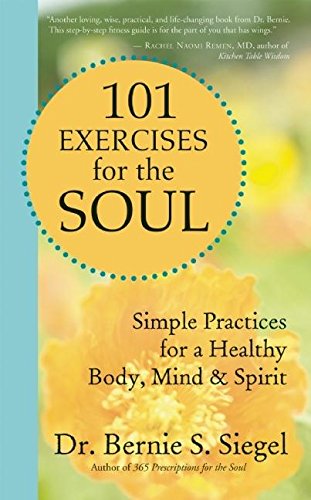 Dr. Bernie S. Siegel offers 101 simple exercises for the soul, a divine plan for healing yourself and transforming your life.
Description
In this follow-up to 365 Prescriptions for the Soul, Dr. Bernie Siegel uses his trademark humor and insight to guide readers toward self-healing and an inspired life. He presents himself as a workout coach, providing a coach's wisdom and stressing the coach's mantra of practice, practice, practice.
Each chapter consists of a coaching tip (where he explains the chapter's teaching) followed by four or five exercises designed to bring the teaching directly into the reader's life. The exercises are all short and easy to apply. Each of the 20 chapters covers a different topic, such as overcoming obstacles, creating a positive mental attitude, building a stronger spiritual foundation, and cultivating a sense of empowerment. Throughout the book, as always, Dr. Siegel emphasizes a proactive approach to self-healing. An ideal gift for friends and loved ones, 101 Exercises for the Soul shows how anyone can infuse their life with love and well-being.