Question for Bernie (with drawings):
They have your book ready for me at the bookstore. I will pick it up later on.  I have the appointment for the surgery, and I am about to cancel it. I am confused. I still believe in miracles and/or that the body can heal itself if we help it. The surgeon is pushing towards mastectomy, but she also said that if I really wanted, we could do a lumpectomy. That is why I drew it. I think the new drawings are key to my decision. Thanks for your help.
I am attaching two new drawings. If you could please let me know what you think, I would greatly appreciate it.
I counted the figures in the other pictures and some of them are amazing: in the alternative one there 11 sun rays: my birthday is October 11, same day that my Dad passed away couple of years ago. And October 1st (10+1) is the day they told me for the first time that I had cancer. Of course I didn't believe it, and waited for the confirmation with the biopsy of November 9th last year.
Three triangles—it has been three months since I started the natural treatment.
Mastectomy: 6 tentacles, since I am a La Leche League Leader (its birthday is also October 11, 1956, just like mine). I thought that might symbolize all the women I've helped breastfeed over the years, and of course my two sons whom I breasted for years; 3 big lumps (I don't know why because there are only 2) and 3 small lumps, which I think coincides with the calcifications; 7 yellow strips and 6 blue x's.  Chemo: 8 river lines—I don't know what to make of this?
Spontaneous remission: 22 yellow lines, 11+11, 22 is Tuesday, the day of the surgery; 11 yellow dots; 26 blue healthy cells = pounds I have lost through detoxing and eating mostly vegetables; 13 black, cancer cells (bad luck?).
I really, really appreciate your input.
Thanks a lot.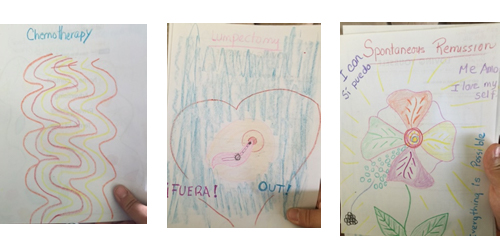 Bernie's Answer:
Drawings are hard to look at when they are bigger than my screen and I have to look at them in sections…but here are my impressions:
I like the purple as it is a spiritual color and very good to illustrate loving yourself.
Eight is a new beginning number.
Count the new circles, too.
I like the black circles dropping away.  Let them go.  Cut the string.
What you choose as treatment is up to you.
Yes, you have the potential, but most important is that you don't ever see yourself as a failure if you don't induce self-healing.
This is not about failing, but about doing what is right for you.
There is color and life, and if you bloom and blossom like the flower you drew, all will be well.
Peace,
Bernie
Comment from Writer of the First Question in Today's Q&A:
THANK you very much for your input.  I didn't realize that I was feeling like a failure, but you are right. The minute I read that, I started to cry. Thanks.
Here are the new drawings.  Thank you, again.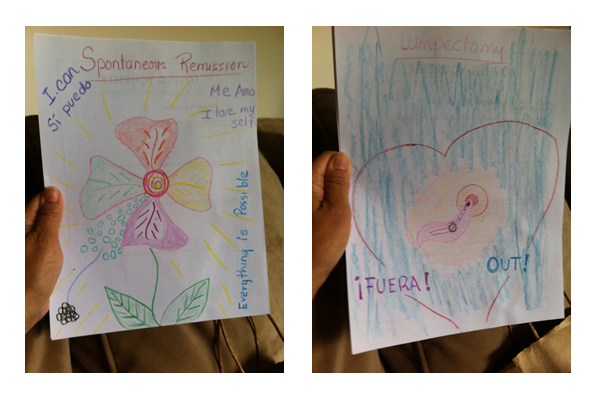 Bernie's Answer to Drawings and Reply:
Chemo has nothing to do with you in the drawing, so how can it help you unless you let it in?
The lumpectomy can help.
The heart is open at the bottom, so keep an open heart to all the possibilities.
I love the flower. I think your healthy immune system cells (blue 24 cells) are cleaning out the cancer and sending it away from your body (13 or 14 cells).
Peace,
Bernie
---
Question for Bernie:
I would like to ask you a question after watching your video on INN with Joshua Rosenthal. I have a history of kidney stones, and in fact I was said to be a famous case at one point by both doctors here in the Cayman Islands and in the USA. I have had more operations than I can remember due to kidney stones.
I lost my left kidney, as they said if I had the kidney removed, I would stop getting stones. That did not work, but at the time, I was backed into a corner—either the kidney or go home to the UK. I had a child whom I love dearly and made the sacrifice, as he is from here.
I do believe the cause is having lived in my family home, which was not the best. How do you think I can leave the past behind? I am now 51 years old, married, and have three children. I ask because I feel it is high time I removed the past. Thank you.
Bernie's Answer:
Yes, the past is over.  Now you must abandon it and start using your energy to love your life and your body.
Put up pictures of yourself as a child and every time you see that picture, tell that kid that you love her.  Parenting, with or without love, determines our future life and health.  So re-parent yourself—become your own child and love that little child with all your energy.
Peace,
Bernie