Question for Bernie:
First I want to thank you for two of yours books: Love, Medicine & Miracles, which I read in the 1980s, and 101 Exercises for the Soul, which I'm currently reading, because as always your words are a light in the road.
I have been diagnosed with a hypernephroma that is occupying two-thirds of the right kidney. They have said that the only solution is surgery to remove the tumor and kidney. But I dread the idea of having only one kidney, because I'm afraid that in the future I could develop a tumor in the remaining kidney.
In a case like mine is there another solution instead of surgery?  Infinite thanks for your attention.
Bernie's Answer: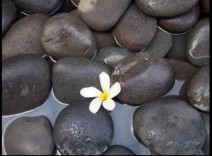 Your body can do very well with one kidney. And successful transplants are always an option if the need should ever arise.
You must stop imagining the worst because that will make it more likely to happen.  Your mind is powerful, so use it in a positive way for your health.  It will respond if you send your kidney love, visualize it as healthy, and absolutely protect it from negative thinking and fears.
Peace,
Bernie
---
Question for Bernie:
Thank you for sharing your insight and wisdom with all of us.  Each of your messages is so important and I'm appreciative that you put your word out there for all of us to hear.  I wanted to tell you a little about myself.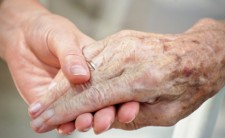 I'm in my mid 40's, and live in Georgia with my husband.  My mother and hearing-impaired brother live in a small town in southeast Kansas. There are two reasons why I am sending you this message.  The first one is because there are so many women out here taking care of parents from a geographical distance and it's not always easy.  I've taken Gerontology courses and other classes on aging.  Any advice that you could incorporate onto your website for those of us who are taking care of aging parents would be much appreciated.
The second reason I am writing this letter is to see if you can offer advice for those residing in small towns.  Although my story is long (way over the character limit on the website), I will give you a very condensed version.
Six to seven years ago my mother was diagnosed with spinocerebellar ataxia.  She's now 79-years-old and in relatively good health.  She's a fall risk, which of course, accompanies this disease.  The issue is, at the time that she took a simple blood test to determine if, in fact, she did have spinocerebellar ataxia, Medicare was not paying for the results.  I have been diligent about following up all these years, and in the fall of last year, discovered that Medicare is now paying for the testing. However, there is a significant increase in the cost of the test because they can now determine many more of the 36-genes that can cause this type of ataxia.
Excited because we could now get more accurate information, I called my mother's doctor's office (I am her POA.)  Her doctor is young and I believe this is over her head. She refused to do the blood test saying she was "Content with what the prior neurologist determined."  The thing is, at the time she was "diagnosed" it was a guess that she has this type of ataxia. Furthermore, there are 36-different genes which could cause different effects.
The doctor is satisfied but I am not.  My mother deserves to know if, in fact, she does have spinocerebellar ataxia, and if so, which gene, if they can determine it, is causing this.  Mom has already fallen and cracked her pelvis in two places, along with the cup of her hip joint—all in the same fall.
My mother has also been "seeing and hearing" things for a long time now.  The doctor is aware of this.  She tells my mom it is "in her head" and her doctor even told me that it's just something we have to deal with.  This is not the quality of life my mother deserves—to be staying up all night and sleeping some in the day because she's afraid of whatever this is she claims to see and hear.  It's very real for her.
This is a small town and there is now no neurologist.  Many of the other doctors are not taking on new Medicare patients, even though my mother has blue cross/blue shield as her secondary insurance company.  I've tried to get her to come to Georgia to do testing, but, and this is very understandable, she's afraid to travel now.
If you have any suggestions or advice on this subject, whether you are able to answer me directly not, please consider giving your insight and wisdom on your website about these kinds of challenges for adult children taking care of elderly parents.  I have anxiety over this because I feel like I'm not doing enough.  My mother was a single mom and took great care of her children, always putting us first.  We were so blessed with her, and I feel like I'm not able to give back the care she truly deserves now, in her time of need.  She should have the care and unselfish love she gave to us throughout her whole life as our mother.
Bernie's Answer:
It is time to listen to your instinct—to your inner voice and let your heart make up your mind. By following your instinct about what would make you happy and satisfy your need to see that your mother gets the care she deserves, you will end the frustration of trying to accept the "rational" explanations given to you about your mother's condition.
Ask yourself what you are supposed to be learning from the hell you are going through as you try to care for an aging parent who lives far from where you live.  Part of you clearly sees that she needs help now like she never did before and she lives in a place where there isn't a great presence of specialists.  But another part of you has a very hard time accepting that this strong, loving, capable mother you grew up with is so fragile now.  You want to be her advocate for better care, yet you are at some level having a hard time accepting that this amazing woman cannot advocate for herself, as she always did—along with advocating for her children so successfully.
There are plenty of books out there now about caring for aging parents—it is part of life for the once free spirited Baby Boomers. And it is a hard transition to make, but the good news is that there are great resources out there to help.  Visiting nurse services and local hospices, often affiliated with hospitals and clinical services, have compassionate care programs.  They provide dedicated, trained volunteers to come and do everything from just keeping your mother company to shopping for her to transporting her to medical appointments.  Some are trained specifically to interact with elderly patients who do have some form of dementia related to illness or age.
Get her one of the many emergency help services that provide patients with an alarm they can wear all the time and just press a button for help, especially if they fall.  Find some of these services and interview them, choosing one that can come up with a care plan you know would keep your mother safe and give you peace of mind.  There are many solutions which worrying won't fix.  It is time to take action.  Include your mother in your visits to potential caregivers and other services.  Treat her with dignity and not as a child.  She may be physically fragile, and understand that she needs your help, but she is still your mother and in her eyes, you are still her child.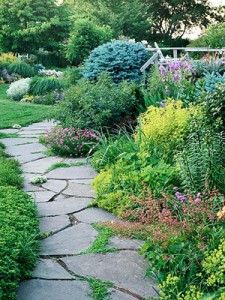 Learn to be an active listener.  This is a time of life when an elderly person who is struggling with illness often needs to talk—to review their lives—to remember the good times. Learning how to really listen so that she knows you are hearing her words is one of the very best things you can do for her.  Don't judge; don't tell her how she should think about things.  And when you talk, fill your conversation with specific memories of what a great mom she was—and still is as you continue to learn from her—and how every time you are with together, you are grateful. You can move her to live with you and your husband, or you can move in with her.  Most importantly, spend your time and energy loving her.
Peace,
Bernie
---
Question for Bernie:
I am looking back through my life in order to deal with all the pain and hurt that lies tucked away within. I want to find inner peace and gain better health.  It is time I just got on with life since I have been in survival mode for many years, hiding all the emotions.
We are supposed to forgive but I just cannot, at this stage of the journey, forgive my ex-husband, who has caused so much pain, hurt, and trauma to me and our children.  I can see why he did the things he did, but I wonder if I can ever forgive him. And what happens to my recovery if I cannot?
I have several of your books and CDs and am finding them so wonderful and helpful. Thank you.
Bernie's Answer: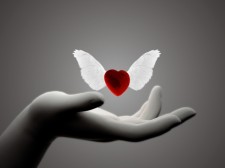 When you forgive someone—in this case, your ex-husband—you GIVE yourself the gift of having your time and your life back again.
It is not about forgetting and trying to GET something.  When you forgive, you release yourself from the shackles of spending precious time ruminating over things you cannot change.
Be a love warrior and let love be your weapon when dealing with your ex-husband.  Clearly he was wounded as a child.
Love your kids and give them mottoes to live by so that they see problems in life as chances to learn. Teach them that what seem like problems in life are God's re-directions from which lessons and goodness will come into their lives.
Take care of your needs—your mind, body, and spirit.  Learn to say "no" when your heart tells you to do so.
Peace,
Bernie