This is a continuation of a Q&A session from an earlier post.
Response to Bernie's Request for Drawings for Interpretation
Hi Bernie,
Yes, I'm happy to send you drawings! I would welcome you interpreting my drawings. Should I do the 4 drawings you suggest in your first book Love, Medicine & Miracles, or drawings about other topics?
I continue to get the message in different ways, that I will be 100% healed, that I am here for a purpose, to serve God. I don't think this necessarily means to be a minister, but to help others in some way.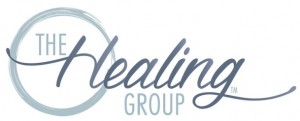 Thank you very much for sending me information about The Healing Group. I will add it to my schedule. As long as I don't have a medical appointment I will gladly come to your group! I hope you are enjoying the weekend.
I will send you drawings in the mail at the end of next week or early next week, when a friend can put them in the mail. I am ordering markers and they will be delivered most likely by Wednesday so I can color my drawings.
I'm reading your books and just got your audio of meditations to heal the immune system, your guided imagery is very interesting. I just started with your audio, am going to try to do this daily.
I have a second opinion on Tuesday. Most likely, I will go with the second opinion, but I do want to verbally hear what they have to say. I'm bringing a family member with me. My current oncologist is excellent, but I'm already being described as "an interesting case" – so my gut reaction is to go somewhere where they have more experience and have seen more "interesting cases" this is just my feeling. I am grateful to have alternatives and options because I know a lot of people do not have any type of choice at all, so trying to maintain an attitude of gratitude during this stressful time. 🙂
Thank you for your time and help, I look forward to seeing you and meeting everyone at your healing group in another week or two.
Response to Bernie
Hi Bernie! My drawings are in the mail to you – in a purple envelope!
I put letters on each of them, and a short description in a letter to you of what the drawing is about. I also sent to you what has happened in my life in the past couple of years, I know that everyone in the world has had an incredibly stressful time with the pandemic, before COVID I've had some serious life stresses. In reading your book, I think these could have been a trigger for where I am, receiving this diagnosis.
I had my 2nd diagnosis; they would prescribe exactly the same medications, the same doses. No one is now saying I have such a short life expectancy.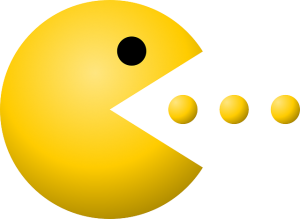 My oncologist said my recent labs were "excellent." I do your meditation 2x a day, picturing Pac Men going through my body, eating the cancer.
Thank you for your time and help. I welcome your insight with my drawings. I look forward to seeing you and everyone in the support group via Zoom. Kind regards.
Bernie's Response
I recommend that you use your own images in meditation.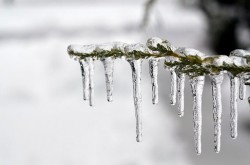 PAC men can be replaced with your creation.  Some suggestions are:
Melting ice
Pets eating it up
Carrying them away
Some people have dramatic results when their pet was eating away at their disease.  Another story of the power of our minds and bodies working together is about a conscientious objector who refused treatment when his doctor said,
"I am going to kill your cancer."
The patient responded, "I don't kill anything," and he went on to do beautifully carrying the cancer cells away and doing holistic therapies.
Peace,
– Bernie
Response to Bernie
Oh that's good! I'll picture my cat Penguin eating it away. Thank you, I look forward to seeing you and everyone in group!
Bernie's Response
Thank you for sharing your story about finding and doing the things to help you survive and heal.  You exhibit survivor behavior from your active participation in your care to an overall positive attitude and willingness to use drawing as a great way to discover what is really standing in your way—all of this makes you truly a SURVIVOR.
I mentioned to you that there are no spontaneous remissions, but there are cases of self-induced healing. Your survivor's healing personality is symbolized by the rainbow colored butterfly in the novel, Cancer Ward, by Solzhenitsyn.
Thank you for helping us all by sharing your journey.  Keep us updated.
Peace,
– Bernie